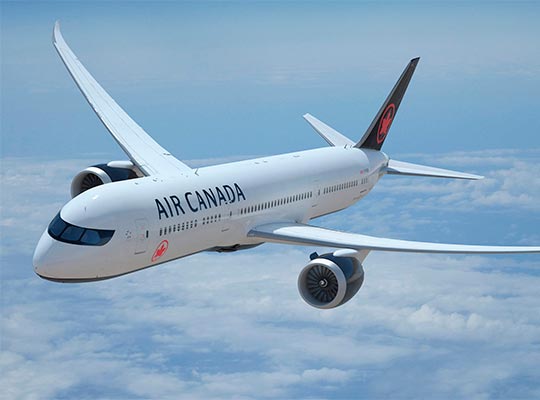 Partner since 1997 and  official GSSA of Chile, Peru, Ecuador, Bolivia, Colombia and Brasil.
Air Canada (IATA: AC – ICAO: ACA – Callsign: Air Canada) is the national airline of Canada. Its operations center is located at Pierre Elliott Trudeau International Airport in Montreal, Quebec, Canada. The company, founded on April 10, 1937, is one of the founding members of the Star Alliance airline alliance.
The airline provides both scheduled and charter air services, transporting passengers and cargo to about 240 destinations. Through the subsidiary Air Canada Vacations, it offers tourism packages to about 90 destinations. The company also provides maintenance services under the name Air Canada Technical Services (ACTS).
Air Canada uses the Pierre Elliott Trudeau International Airport in Montreal and the Lester B. Pearson International Airport in Toronto as a connection for its flights from the Atlantic area, while the Vancouver International Airport is used for the arrival of flights from the area of ​​the Peaceful.
For its part, the Calgary International Airport and Halifax Stanfield International Airport are used for the reception of flights from the geographical regions of the West and Atlantic, respectively.
Air Canada's regional partners include Air Canada Jazz, Exploits Valley Air Services, Air Georgian, Central Mountain Air and Rouge.
Founded: August 11, 1936 as Trans-Canada Alliance
Main airport: Toronto Pearson International Airport
Headquarters: Montreal, Quebec
Fleet: 338 (205 from Air Canada and 133 from Air Canada Jazz)
Destinations: 104 (excluding subsidiaries)
www.aircanada.com